Further dates of the DOWATEK HardEnduroSeries Germany 2023 are fixed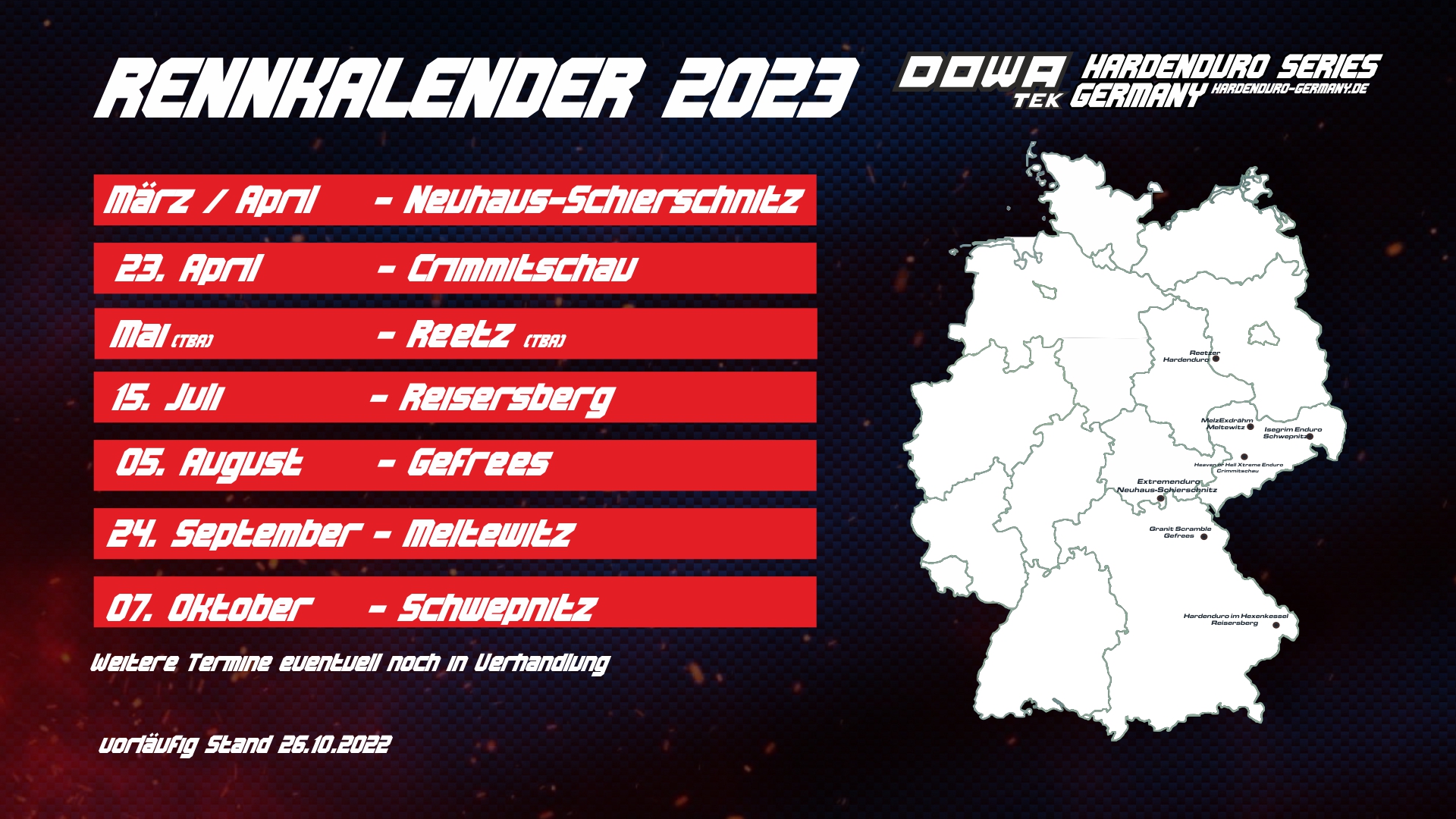 The calendar for the 2023 season of Germany's only Hardenduro Championship is becoming more and more concrete. The dates for the races in Crimmitschau, Gefrees and Schwepnitz have now also been fixed.
The race weekend in Crimmitschau on 22/23 April will again offer a full programme. As in previous years, the Saxon Offroad Cup race will take place on Saturday 22.04 as part of the supporting programme. The DOWATEK HardEnduroSeries Germany will take to the track on Sunday. The HET Reinsdorf e.V. as the organising club is already in the planning stage.
This time, the race in Gefrees will be held in August, offering even more opportunities for the riders. On 05.08. the riders will be challenged again and can look forward to new sections.
Meanwhile, the date in Schwepnitz has also been confirmed. As announced in the preliminary first draft calendar, the date remains unchanged with 07.10. After a year's break, Schwepnitz will thus again be the season finale.
The dates for Reisersberg (15.07.) and Meltewitz (24.09.) are also fixed.
The exact date of Neuhaus-Schierschnitz is still open. The race in Reetz, Brandenburg, will probably be added to the calendar as the seventh race in May 2023.
The HESG series organisation will continue to announce further information on calendar planning and changes to the regulations in good time.
Up-to-date information on the Dowatek HardEnduroSeries Germany can always be found at www.hardenduro-germany.de and on our social media channels.