Six rounds are planned in the MAXXIS HardEnduroSeries Germany 2021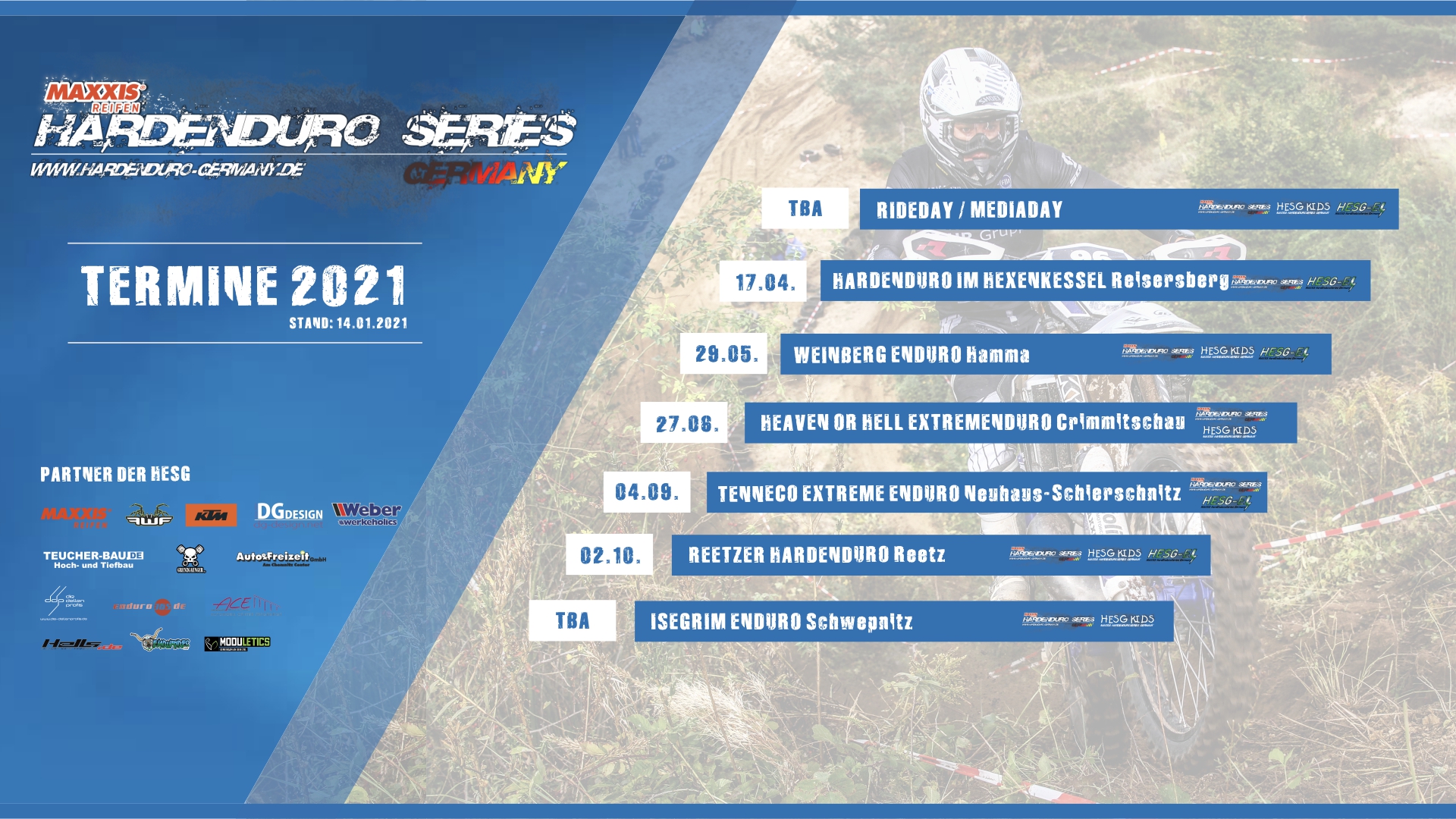 A little late to the last years, the MAXXIS HardEnduroSeries Germany has announced the calendar for the 2021 season. A total of 6 races are planned at the traditional tracks of the series. The season start is scheduled for 17.04.2021 in Reisersberg. The date has been taken over from the cancelled 2020 / 2021 season, but should this not be possible due to the current Corona situation, alternative dates are being planned.
After a year's break, the MSC Hamma (29.05.21) returns to the calendar, with the run in Südharz planned for the end of May. The other stops are Crimmitschau (27.06.21), Neuhaus-Schierschnitz (04.09.21) and Reetz (02.10.21).
The date for Schwepnitz is not yet fixed and will be oriented to the Corona Crisis regulations, the race is planned to take place again in autumn.
Online entries for the races will be made approximately one month before the races and will be announced.
Four races for HESG-E and HESG Kids
The HESG-E (electric motorcycle class) and HESG Kids will be added as a new supporting programme in the 2021 season. The classes will be held in the supporting programme at 4 rounds. In addition, the ADAC Enduro Youth Cup Hessen-Thuringia will be held in Hamma and Neuhaus-Schierschnitz. The Saxon Offroad Cup will be held in Crimmitschau as part of the supporting programme.
All information on the new season, as well as a review of the last few years, can be seen in the current HESG Talk on the series' Youtube channel: https://youtu.be/vmA8wzfd6yo
Registration in the classes as well as information about the Maxxis HardEnduroSeries Germany can be found at any time at www.hardenduro-germany.de.