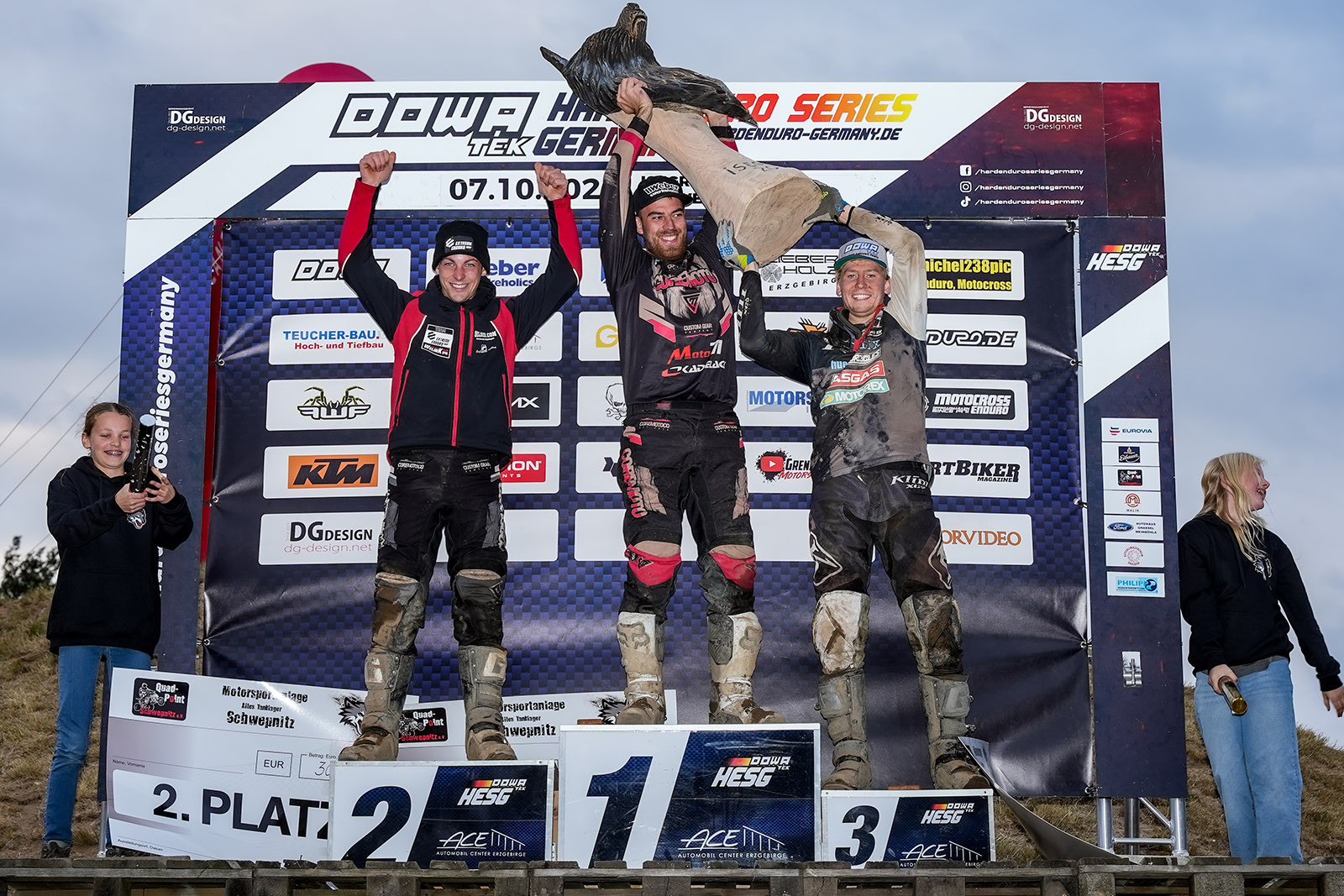 The veterans strike back in front of a gigantic audience
A dream race day lies behind the DOWATEK HardEnduroSeries Germany 2023. The series returned to Schwepnitz after a one-year hiatus in front of a gigantic audience. Despite less favorable forecasts, ideal racing weather prevailed at the Motorsportanlage Altes Tanklager in Schwepnitz. The Quadpoint Schwepnitz also did an excellent job to entertain both fans and riders optimally.
Facts, Isegrim Enduro Schwepnitz 07.10.2023
Weather: 16 degrees, cloudy
Prolog Award Winner: Kevin Gallas (GasGas)
Winner: Kevin Gallas (GasGas)
Fastest Lap: Kevin Gallas (GasGas), 05:31,157
The first surprise came already on Friday evening when Kevin Gallas unpacked his motorcycle. Some were amazed because the two-time winner of the Isegrim Enduro didn't park his vintage Honda in the paddock but presented his current 300cc GasGas. With that, it was already clear that the two-time series champion would once again compete for the day's victory.
Prolog Award with the first statement
That's how it played out. Initially, Lenny Geretzky took the lead, but Kevin Gallas countered and immediately had a 2-second lead over his younger competitors. Some of them still had issues with the unfamiliar sandy terrain. For example, Felix Bähker, who was also dealing with a cold, only managed to secure the 10th place in the once again highly competitive field.
In total, 88 participants took part in the prologue, which was a sufficient and commendable field of starters for Schwepnitz.
Drama involving Fynn Hannemann in the group race
For some, the group races are merely a warm-up for the final. The top riders can establish their positions, while the amateurs can complete laps on a less challenging track to also qualify for the final. However, it is relatively rare for there to be a decisive outcome for the day at this stage. In the first group race in Schwepnitz, though, this exact scenario unfolded. Fynn Hannemann battled with Gallas for the race lead and even managed to overtake the seasoned rider with a spectacular performance. Then, however, a shock befell the young Hessian rider: a defect in the clutch cover shattered his dreams, and he tearfully dropped out of the race, despite there still being 20 minutes left to go. It was no longer enough to maintain a position within the top 15, which qualified for the final.
Meanwhile, Kevin Gallas secured the victory in the group race. In the second group race, Marc Wulf delivered a commanding performance and triumphed over his fiercest title rival, Lenny Geretzky.
Final under high tension
As it approached 3:45 PM under the expert moderation of Klaus Nitzsche, there was a tension like never before hanging over the motorsport facility. Tension was present in all classes, and the fast, short track with many obstacles allowed for close racing.
That's exactly how it played out. Although Gallas built a slight lead in the first lap, Lenny Geretzky, Marc Wulf, and even Felix Bähker gradually closed in. However, 30 minutes before the end, the field suddenly mixed up in each lap. Initially, Lenny Geretzky stumbled and had to let Marc Wulf pass. Then, due to problems with his hand, the Suhl rider made further mistakes and dropped back to 5th place.
Suddenly, Bähker got closer to Wulf and even briefly took the lead. However, he also fell back, clearing the way for Leon Hentschel, who strategically and flawlessly raced to secure 3rd place. Gallas benefited from all of this and won in Schwepnitz for the third time, thus claiming his third Wolf Trophy.
With his second-place finish, Wulf closed in on Geretzky in the standings, and they are now separated by only 1 point before the final.
Andreas Pieper has already been crowned champion in the Seniors category, as has Raven Lippold in the 85ccm HESG Kids class. Marc Wulf was already unreachable for the Pro riders after Meltewitz.
So, an incredible finale awaits on the new track in Rüdersdorf on October 28th. You can register for it here: www.hardenduro-germany.de/onlinenennung-mountdoom-ruedersdorf-2023/.
You can always find the latest information about the DOWATEK HardEnduroSeries Germany on www.hardenduro-germany.de and on social media.
Photos: Michel238pic/Michel Kuchel